Recommended one day trip
Although Kusatsu is well-known as the prominent onsen resort in Japan, attractive tourist spots other than onsen should not be missed.
Most of the tourist facilities are located within walking distance. Enjoy a fulfilling day in Kusatsu.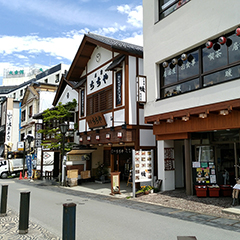 Kusatsu Onsen Village
12:20
How about lunch in the shopping area
in Kusatsu Onsen Village,
when you arrive around noon?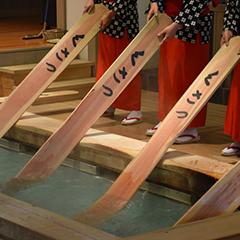 "Netsunoyu" Yumomi Experience
13:20
You can join Yumomi Experience
without reservation.
The duration is about 10 minutes.
Available between 11:00 a.m. and 2:00 p.m.
(Last admission at 1:45pm)
Find a detail here.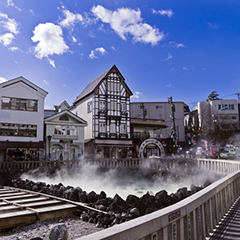 Yubatake
13:45
Yubatake is a symbol of Kusatsu Onsen
with an output of 4000 liters per minute.
It is also amazing at night,
when illuminated with lights.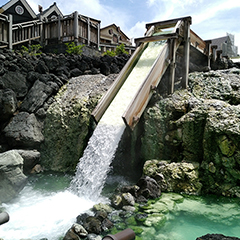 Yubatake: Yutaki / Stone lantern of Yutaki
It is amazing that onsen which
has been cooled down in the 7 Yuoke
dynamically flows down on Yutaki.
Yukemuri tei
Yukemuri tei is a foot bath located
beside Yubatake. It is free of charge.
Relax for a while to feel restorative.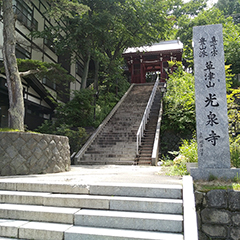 Kousen-ji Temple
14:30
Known as one of the "Three Yakushi
(Buddha of Medicine,)",
Kosenji-Temple is popularly visited
as a famous spiritual spot.
Stone stairways are illuminated
with candles at night.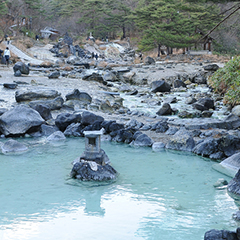 "Sai-no-kawara" Park
15:00
"Sai-no-kawara" Park is a popular
with upwelling onsen and
widely knownas Kusatsu's attractive
tourist spots with Yubatake.
"Sainokawara-dori" Street
15:45
Go back to Yubatake through Sainokawara-dori Street, the downtown of Kusatsu Onsen Village, where many gift shops are lined up.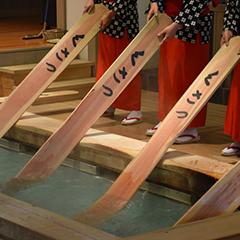 "Netsunoyu" Dance Show
16:30
"Yumomi" and "Dance" Show
(Approx. 20 minutes)
[ Yumomi Show ]
9:30 a.m. / 10:00 a.m. / 10:30 a.m.
3:30 p.m. / 4:00 .pm. / 4:30 p.m.
Find a detail here.
Adults 3,500JPY, Children 1,750JPY
(Travel time: Approx. 4h 40min)
Adults 3,500JPY, Children 1,750JPY
(Travel time: Approx. 4h 40min)