Jigokudani
Jigokudani
The Jigokudani Yaen-koen (altitude 850 meters) is located in the Valley of Yokoyu River sourced from Shiga-Kogen of the Joshinetsu-Kogen National Park in northern part of Nagano prefecture.
Because of the very steep cliffs and the steam coming out of the springs in everywhere, ancient people called this valley 'Jigokudani (Hell valley)'.
This area is covered with snow almost one third of the year. However, such severe environment is a paradise on earth for monkeys to live in.
The troops of wild Japanese macaque (they are popularly known as snow monkeys) inhabit here naturally through the ages.
Since the establishment of Jigokudani Yaen-koen in 1964, it has been a worldwide popular place for watching the bathing monkeys in a hot spring and observing its unique ecology for researchers and photographers.
JIGOKUDANI YAEN-KOEN OFFICIAL WEBSITE
Access to Jigokudani from Shinjuku sta.
Shinjuku sta.- <Highway-Buses> - Nagano sta. - Nagano Dentetsu Yudanaka Line for Yudanaka sta.<Train> - Yudanaka sta. - Nagano Dentesu Bus for Kanbayashi<Rocal Bus> - Kanbayashi Onsen - <by foot 30mins> - Jigokudani Yaen-koen
Highway-Buses
<Shinjuku sta. to Nagano sta.>
Train
<Nagano sta. to Yudanaka sta.>
Rocal Bus
<Yudanaka sta. to Kanbayashi Onsen>
Fare
Adult 4,400 JPY
Child 2,200 JPY
Adult 1,160 JPY
Child 580 JPY
200 JPY
>>Reserve a ticket for Nagano sta.
Ski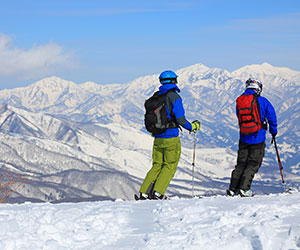 Hakuba
[Shinjuku(Tokyo)] ⇔ [Hakuba]
Adults 4,850JPY
Children 2,430JPY
Travel time : about 4 hours and 40 minutes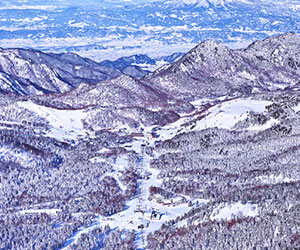 Shiga Kogen
[Shinjuku(Tokyo)] ⇔ [Nagano]⇔ [Shiga Kogen]
Shinjuku to Nagano
Adults 4,400JPY
Children 2,200JPY
Timetable for Shiga kogen(Nagano)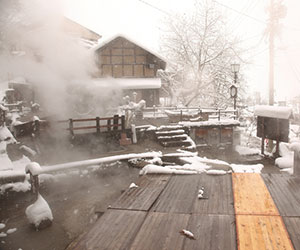 Nozawa Onsen
[Shinjuku(Tokyo)] ⇔ [Nagano sta.]⇔ [Iiyama sta.]⇔ [Nozawa Onsen]
Shinjuku to Nagano
Adults 4,400JPY
Children 2,200JPY
Timetable for Nozawa Onsen(Nagano)