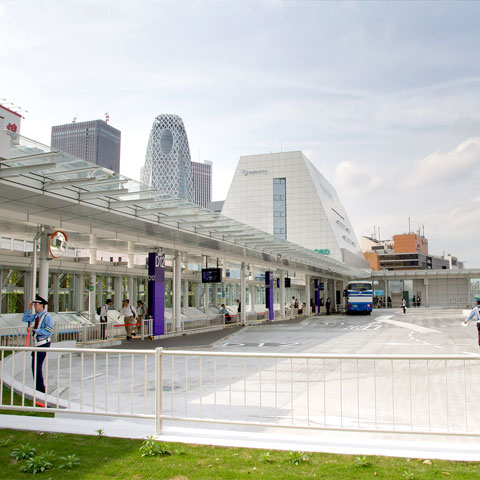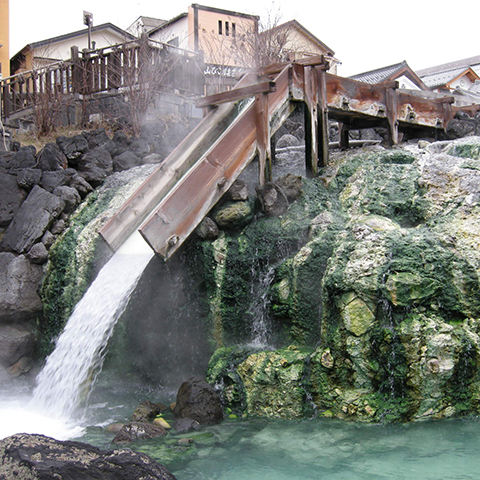 Adults 3,500JPY, Children 1,750JPY
(Travel time: Approx. 4h 40min)
Adults 3,500JPY, Children 1,750JPY
(Travel time: Approx. 4h 40min)
Adults 3,000JPY, Children 1,500JPY
(Travel time: Approx. 2h 55min)
Adults 3,000JPY, Children 1,500JPY
(Travel time: Approx. 2h 55min)
About Kusatsu area
It is one of the most prominent onsen in Japan and has been nominated as the top onsen among "Japan's Top 100 hot springs" for last 14 years.
There are 18 free public onsen in Kusatsu, and they are perfect for day trip travelers.
If you have time, overnights in Japanese-style traditional ryokan in Kusatsu is highly recommended. Although staying in ryokan may be considered expensive, there are a number of reasonable ryokan in Kusatsu Onsen Resort.
The symbol of Kusatsu Onsen in "Yubatake" with more than 4,000 litters of onsen water flows out every minute. That onsen water is provided to each ryokan and onsen facility.
You will enjoy staying longer in Kusatsu Onsen, as there are many restaurants and shops.
Cooperative Kusatsu Onsen Ryokan
 Recommended Tourist Spots in Kusatsu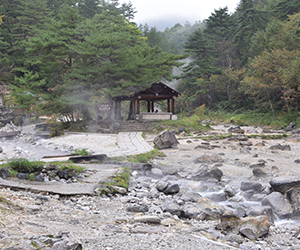 "Sai-no-kawara" Open-air Bath
Located 10 minutes from Yubatake, Nishi no Kawara Open-air Bath is surrounded by trees behind Nishi no Kawara Park. 500 sq. meter of vast onsen is one of the largest in Japan. Relax with 360-degree panorama of seasonal natural beauty; tender green in summer, autumn leaves and snow landscape in winter.
[Opening Hour]
7:00 a.m . - 8:00 p.m. (starts at 9:00 p.m. between December and March), last admission at 7:30 p.m.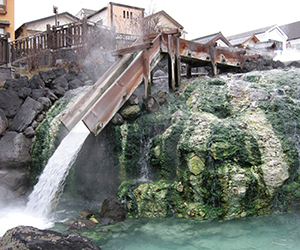 Yubatake
Yubatake is a symbol of Kusatsu Onsen Resort. Located in the heart of the area, several ryokan and hotels are situated around it. It is illuminated at night. There is a foot bath around Yubatake. Bring towel with you.
Accommodations
Cooperative Kusatsu Onsen Ryokan
Guidance of Kusatsu Onsen Hotel and Ryokan.
Kusatsu Onsen Ryokan Boun
Just a three-minute walk from Yubatake, Boun Hotel boasts a selection of Kakenagashi baths (which are constantly supplied with fresh hot-spring water) as well as a beautiful rhododendron garden.
Kusatsu Skyland Hotel
It is located at 1,200 meters above sea level, where you can enjoy one of the best Japanese hot springs (named Kusatsu Onsen) and beautiful Japanese nature in highland. You can also enjoy Japanese traditional cuisine, prepared using local fresh ingredients, which has earned a good reputation especially from foreign visitors.
Kusatsu Onsen Nisshinkan
The Ryokan had been operated for more than 300 years as "Yado Yumoto Yasubei", that is closely located near Yubatake, the symbol of Kusatsu Onsen. It used to be one of the unique onsen facilities that water directly running from Yubatake.
About Karuizawa area
Karuizawa is located about 1,000 meters of elevation and therefore, well-known for one of the prominent summer resorts in Japan with cooler average temperature is 7.8 Degrees Celsius. Many nature activities, such as hiking, cycling, tennis and golf are available throughout a year and attract many visitors from the world. In Karuizawa Prince Shopping Plaza, there are 200 of various shops and outlets with world-famous boutiques, regarding interior accessories, sundry goods and outdoor equipments.
 Recommended Tourist Spots in Karuizawa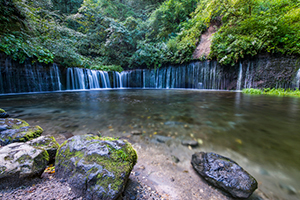 Shiraito Falls
Shiraito Falls are 70 meter wide cascade that flow off the edge of 3 meter high in thin white streams like white threads. In summer, "Karuizawa Shiraito Falls Illusion", which is lighting up and project mapping event is held only for a month. The scenic season with autumn leaves can be seen between mid-October and mid-November. Mystic artificial ice pillars made with spring water of the falls appear between mid-December and March.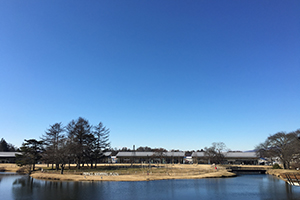 Karuizawa Prince Shopping Plaza
Karuizawa Prince Shopping Plaza is the largest shopping mall with 240 shops in 2.6 million sq. meter of vast area. There is an outlet of many world-famous boutiques. The area is illuminated b during winter season.
*Illuminated periods : From 5:00 p.m. to 8:00 p.m. from the beginning of October to the end of March (TBA)
Adults 3,000JPY, Children 1,500JPY
(Travel time: Approx. 2h 55min)
Adults 3,000JPY, Children 1,500JPY
(Travel time: Approx. 2h 55min)
Onioshidashi Park
This is a popular sightseeing spot for visitors in Karuizawa because it is relatively close and offers a very interesting experience of looking at real volcanic rocks. The appearance of rocks is very similar to the ones on Mt. Fuji. The park was formed when Mt. Asama erupted in 1783.
There is also the Asama Volcano Musuum, where visitors can learn about the geography of volcanoes within a short walk from the park.

Admission Fee : 650yen
Hours : 8:00 a.m. - 5:00 p.m. (admission until 4:30 p.m.)
Closed : Open 365 days a year (shops are closed from the beginning of December to the mid-March)
Access : It is about 35 minutes from Karuizawa Station by Seibu Kogen Bus
Bus fare is 1,210yen for one way.