One Day Trip to Kawaguchiko from Tokyo
When we talk about Must-Do-List in Japan, the only thing flash on your mind would be Mt.Fuji.
So today, just follow my step, I will show you a wonderful one day trip in Kawaguchiko area. In this article, you can not only get useful and handful information, but also know the best spots to take photos of Mt. Fuji!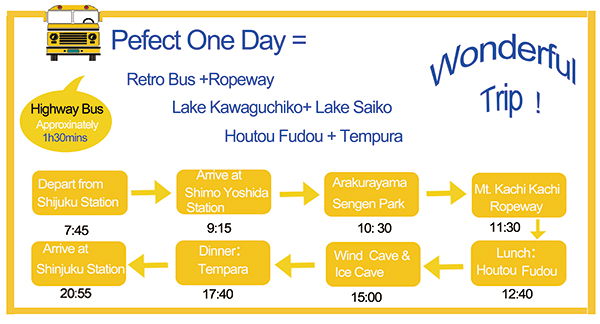 Tokyo (Shinjuku)
Kawaguchiko Station
Adults 1,750JPY, Children 880JPY
(Travel time: Approx. 1h 45min)
Tokyo (Shibuya)
Kawaguchiko Station
Adults 1,800JPY, Children 900JPY
(Travel time: Approx. 2h 30min)
Ready? Go!

Tokyo (Shinjuku)
Chuo EXPWY
Shimo Yoshida
Adults 1,700JPY, Children 850JPY
(Travel time: Approx. 1h 35min)
9:30 - 10:30
Travel around Arakurayama Sengen Park
In spring, Arakurayama Sengen Park has a beautiful View of red and green colors.
When walking around this park, you will have a sense of peaceful and relaxing.
Climb half to the hill, the five-story pagada is right in front. It's not huge but inspiring; not grand but holy. It completely shocks you with comprehensive and profound Japanese culture.
If it is a sunny day, you can have a beautiful view of Mt. Fuji from this spot.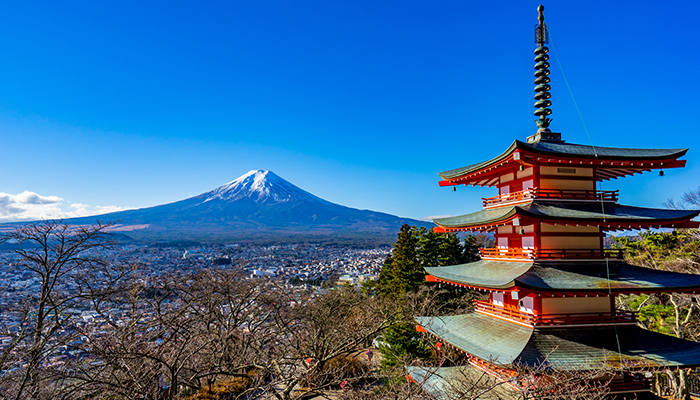 Take a train to Kawagichiko station
After visiting Arakurayama Sengen Park, you need to go to Shimo Yoshida station. Since everyday only few trains go to Kawaguchiko station, it would be better if you check the timetable before your trip.

If you plan to travel a lot of places in Kawaguchiko area, I suggest you buy a Red Line and Green Line retro bus ticket. It costs 1,300JPY but valid for two days.
Besides, you can get all kinds of coupons and maps and bus timetables in Kawaguchiko station!
Don't forget to check!
Take red line bus to Ropeway center station
(Sta. No. 11)
11:30 - 12:15
Experience Kachi Kachi Ropeway!
You can buy ropeway ticket here!
The ropeway last 3 mins and you can have a bird view of Lake Kawaguchiko. And if the day you go happens to be a sunny day, you can see the great Mt. Fuji from the park! Hooray!
Before you take a ropeway, you can get a coupon in Kawaguchiko station. A round trip costs 800JPY, with coupon you can save 80JPY!

Take red bus back to Kawaguchiko station
12:40 - 14:00
Eat Houto Fudou for lunch!
In front of Kawaguchiko station, there lays a noodle shop called Houto Fudou.
This restaurant is so famous that I wait for more than 20 mins in line. However, it was absolutely worth waiting!
Everyone would be surprised when you see such a big bowl of noodles!
It is totally enough for two persons and only cost 1,080JPY!

Take Omni green bus to Fugaku Fukestu station
14:10 - 16:30
Travel around Lake Saiko with retro bus
Beautiful view of Lake Saiko!
It takes around 40 mins from Kawagochiko station to Wind cave by green bus.
The bus travels alongside Lake Saiko.
If the weather is nice, you can see Mt. Fuji reflecting in Lake Saiko like this!
Explore wind cave & ice cave!
I knew that the temperature is around 3 ℃ inside the cave before getting in. But I did not expect that it would be freezing cold like this!
Exploring in these two natural caves with ice and rock in different strange shape, you just feel like bursting into an adventure novel!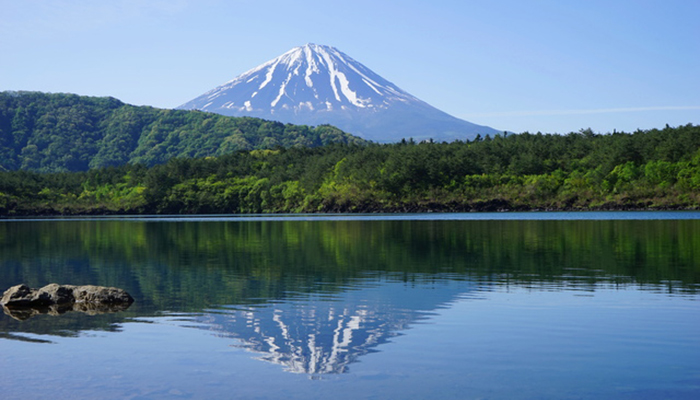 Take green bus at 16:31 back to Kawaguchiko station
17:30 - 19:00
Back to Kawoguchiko station and have dinner!
10-mins-walk from Kawaguchiko station, you can easily access to this Tampura Restaurant.
The tempura is very fresh and if you go alone, I suggest you order set menus with 7 tempura and cost under 1,000JPY. And if you go with more than 3 people, you can order a sea food set! It's enough for three and just cost 3,000JPY!

There are so many nice hotels around Lake Kawaguchiko.
Why don't you stay over night at a hotel in Kawaguchiko and enjoy a beautiful view of Mt. Fuji from your hotel?