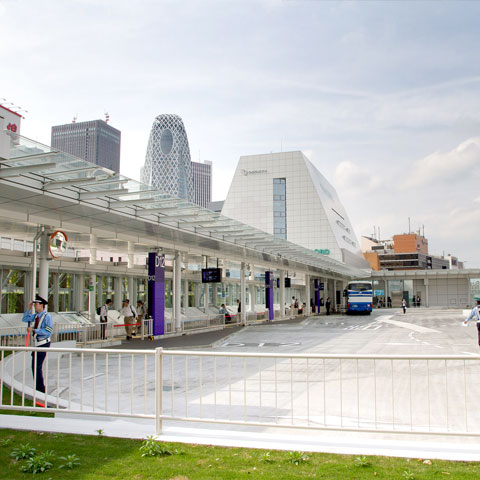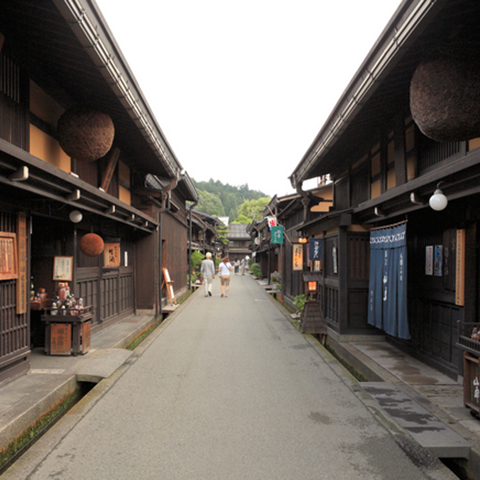 Adults 6,690JPY, Children 3,350JPY
(Travel time: Approx. 5h 30 min)
Adults 6,690JPY, Children 3,350JPY
(Travel time: Approx. 5h 30 min)
For Shirakawa-go, you need to purchase a connecting ticket to Shirakawa-go from Takayama at Shinjuku Expressway Bus Terminal. No reservation is required.

About Hida Takayama Area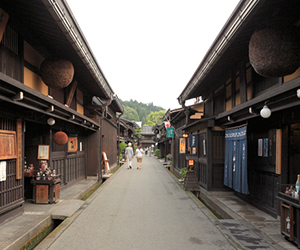 Takayama(also called Hida Takayama) is located in the heart of the Japanese Alps. It is one of the most picturesque town where walking through the narrow streets really make you feel like you're stepping into an old place and time. Hida Takayama has also acquired 3 stars in the French Michelin practical guidebook "Voyager Pratique Japon" as a must visit sightseeing spot. If you are going to Hida Takayama, we would recommend that you make a short trip to Shirakawa-go which is just about 50 minutes from Hida Takayama.
Hirayu Onsen is the oldest and largest of Okuhida's onsen towns.
Adults 6,690JPY, Children 3,350JPY
Adults 6,690JPY, Children 3,350JPY
Night bus is available during summer. The best way to save your time!
Night buses are running between Shinjuku Expressway Bus Terminal to Takayama during the summer.
Shinjuku 10:55 p.m. ⇒ Takayama 4:35 a.m.
Takayama 10:50 p.m. ⇒ Shinjuku 5:20 a.m.
Recommended Itinerary to make a trip to Takayama without staying overnight, using a night bus.
10:55 p.m. Leave Shinjuku Expressway Bus Terminal → 4:35 a.m. Arrive at Takayama Nohi Bus Center → Pick up a breakfast (Convenience store and MacDonald are open) → 7:50 a.m. Leave Takayama for Shirakawago (Book) → 8:40 a.m. Arrive at Shirakawago
The early morning before lots of tourists arrive is the best time to visit Shirakawago.
About Shirakawago
It refers to the village of the Shogawa River Basin in Gifu Prefecture.
The houses with principal architecture are famous, and the settlements are designated as the UNESCO World Cultural Heritage site. In the summer it feels like a country where relaxing air flows, but because it is covered with snow in winter, it is also an area that shows a completely different scenery in summer and winter.
Sightseeing in Shirakawago for 4 hours → 12:35 p.m. Leave Shirakawago → 1:25 p.m. Arrive at Takayama Nohi Bus Center → Sightseeing in downtown Takayama → 10:50 p.m. Leave Takayama Nohi Bus Center → 5:20 a.m. Arrive at Shinjuku Expressway Bus Terminal
Adults 6,690JPY, Children 3,350JPY
Adults 6,690JPY, Children 3,350JPY
We are introducing the latest special package deals which include round trip fare and unlimited ride vouchers and so on. Please check it out!
Three-Star Route Tickets
Three-Star Route Ticket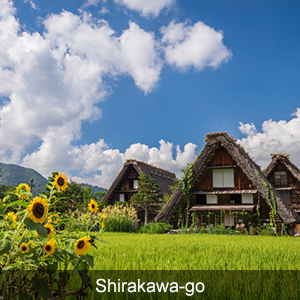 Great deal! 27% off from the normal price!
Adults 8,560JPY, Children 4,280JPY
"Three-Star Route Ticket" is special packaged ticket which allow you travel popular tourist spots including Matsumoto, Takayama, Shirakawa-go, Kanazawa, Toyama and more, departing from Shinjuku.
Discount connecting ticket to World Heritage Site Shirakawa-go!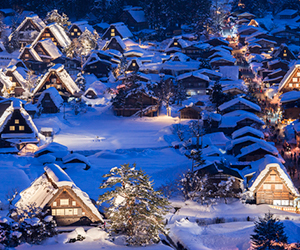 Shinjuku(Tokyo) ⇔ Takayama ⇔ Shirakawa-go

Adults 14,710JPY (Regular 17,800JPY)
Children 7,350JPY (Regular 8,900JPY)
Reservations for this ticket cannot be made online. To purchase, please reserve a Shinjuku-Takayama ticket online and request connecting ticket from the ticket counter at Shinjuku Express Bus Terminal on the day of departure.
"Hida Furukawa Station", one of the landmarks of the filing scene in the movie "Your Name" can be reached by an expressway bus.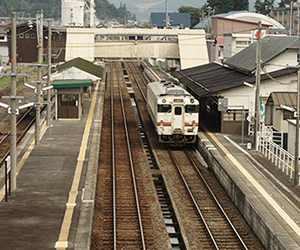 The station appears identical to where main characters get off at the end of their travel from Tokyo to find a heroine, and therefore, it attracts many anime fans to take photos on the same composition.
Hida City Library, which is 5 minutes from the station, is also served as a model for the library in the film. From Shinjuku, a non-stop expressway bus service has been operated to Hida Frukawa.
Shinjuku
Furukawa Station
Adults 6,900JPY, Children 3,450JPY
(Travel time: Approx. 6hours)
Furukawa Station
Shinjuku
Adults 6,900JPY, Children 3,450JPY
(Travel time: Approx. 6hours)
Hirayu Onsen, onsen resort with preserved atmosphere of traditional Japan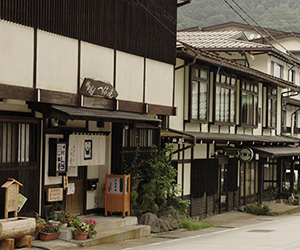 Hirayu Onsen is one of the "Oku Hida Onsengo" along with Fukuchi Onsen and Shin-hotaka Onsen and surrounded by attractive tourist spots of Hida-Takayama, Mount Norikura and Kamikochi.
The area is full with people with several shops and restaurants around the large bus terminal where buses departs to tourist spots of Norikura, Kamikochi, Shin-hotaka and Takayama.
Adults 5,860JPY, Children 2,930JPY
(Travel time: Approx. 4h 30min)
Adults 5,860JPY, Children 2,930JPY
(Travel time: Approx. 4h 30min)
Why don't you travel further from Hirayu Onsen to Kamikochi?
Recommended Route via Hirayu Onsen
Shinjuku Expressway Bus Terminal (Expressway bus Reservation) → Hirayu Onsen (Local Bus : Approx. 25 minutes / 1,160yen) → Kamikochi
Please note that making a reservation for the bus between Shinjuku and Hirayu Onsen is recommended.
Reserve a ticket for Hirayu onsen
Accommodations
Ryokan Seiryu
Ryokan Seiryu is a specialized Hida Beef ryokan, and you can fully enjoy the Hida Beef in the ryokan with onsen. As it takes 5 minute walk from the old quarter of Takayama and 7 minute walk from Takayama Station, the ryokan is perfect for both sightseeing and business. The guest can use a large observation bath in "Spa Hotel Alpina Hida Takayama", the sister facility. »» Spa Hotel Alpina Hida Takayama
Spa Hotel Alpina Hida Takayama
The Hotel is accessibly located only 3 minute walk from JR Takayama Station. The breakfast is served in buffet style, including freshly baked bread and Japanese meal with local ingredients, which has been receiving a favorable reputation. Fast internet connection service is available in all the rooms.
Yumoto Choza
The authentic Japanese-style ryokan offers onsen and traditional kaiseki cuisine. In addition to the large public bus, there are 3 family onsen (private onsen). They are available, if they are vacant. Dinner is served in the dining room (horigotatsu-style to put your feet in) with Japanese-style irori fireplace. Free wifi is available in the whole facility. The free shuttle operates to Fukuchi Onsen bus stop (within 5 minutes).