Recommended Tourist Spots around Lake Kawaguchiko
Kawaguchiko area is the gateway to Mount Fuji from Yamanashi Prefecture and offering best views in every season. Cherry blossoms in spring and autumn colors are particularly breathtaking. Summer is the official season for climbing Mount Fuji, and cycling around the lake is also enjoyable. Winter is considered to offer the most spectacular and clearest scenery of Mount Fuji in a year.
Around the lakeside, there are a number of popular tourist attractions, such as Kawaguchiko Music Forest Museum, Mount Kachi Kachi Ropeway that leads to Mount Tenjo, Kawaguchiko Monkey Showman Theater and Aokigahara Forest.
Also, a range of accommodation is available in the area, from reasonable guest houses to elegant Japanese style ryokan. Staying overnights to enjoy the beauty of Mount Fuji and Fuji Five Lakes is highly recommended.
Tokyo (Shinjuku)
Kawaguchiko Station
Adults 1,750JPY, Children 880JPY
(Travel time: Approx. 1h 45min)
Tokyo (Shibuya)
Kawaguchiko Station
Adults 1,800JPY, Children 900JPY
(Travel time: Approx. 2h 30min)
Recommended Tourist Spots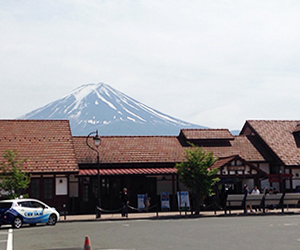 Kawaguchiko Station
Reconstructed in 2006, the classic station contains souvenir shops, and the bus terminal is in front of it. Majestic Mount Fuji can be seen behind the station.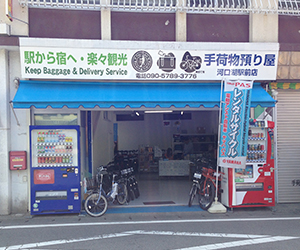 Welcome Center
Located within a minute walk from Kawaguchiko Station.
We rent out bicycles, store luggages, and provide luggage deivery / pickup services, so that backpackers can enjoy visiting Kawaguchiko without their bags and burdens.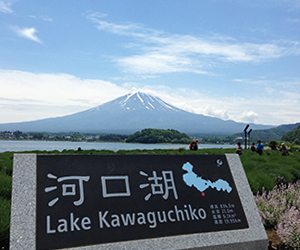 Lake Kawaguchiko
Lake Kawaguchi is one of the Fuji Five Lakes among with Yamanakako, Saiko, Shojiko and Motosuko. European style excursion cruising ship is operated, and picturesque Mount Fuji can be seen on sunny days. The special deal of combination tickets of Mount Kachi Kachi Ropeway and Lake Kawaguchi Excursion Cruise is available at Kawaguchiko Station.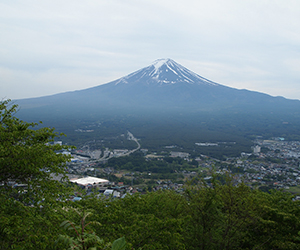 Mt. Kachi Kachi Ropeway
(Tenjo-Yama Park)
It is only 3 minute ride on a ropeway to the observation deck that offers spectacular panorama of Mount Fuji and Lake Kawaguchi for photo shooting. After enjoying the scenery, do not forget to ring "the Bell of Tenjo" that is considered to answer prayers for romance and family safety.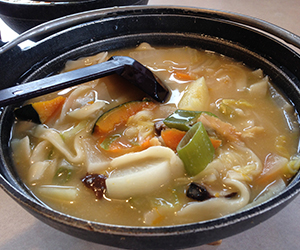 Houtou (Popular regional dish)
Hoto is the local specialty of Yamanashi, which is miso based soup with flat and thick noodle, meats and lots of vegetable, like pumpkins, leeks, potatoes and Chinese cabbages.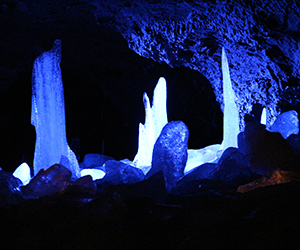 Narusawa Hyoketsu (Ice Cave)
Narusawa Hyoketsu is the ice cave which was created by the eruption occurred 1,130 years ago. Between June and July is the best season to see icicles, ice pillars and basaltic rocks. The ice pillars are beautifully illuminated.
Tokyo (Shinjuku)
Kawaguchiko Station
Adults 1,750JPY, Children 880JPY
(Travel time: Approx. 1h 45min)
Tokyo (Shibuya)
Kawaguchiko Station
Adults 1,800JPY, Children 900JPY
(Travel time: Approx. 2h 30min)