Recommended Tourist Spots in Matsumoto
Matsumoto is an old castle town centering on the National treasure, Matsumotojo. Matsumoto is a town where a lot of historical architectures like Kaich Gakko Primary School, one of the important Cultural Properties, still remain. It is also very accessible to major sightseeing spots in Chubu region (Chubu Chiho), such as the popular ski resort, Hakuba where a Winter Olympic has held once, Kurobe Tateyama Alpine Route and Kamikochi where you can enjoy spectacular nature of mountains, Naraijuku and Takayama where you can enjoy the historical streetscape in Japan, and Okuhida where nostalgic Onsen resorts still remain. Also, Matsumoto is located between Tokyo and Nagoya, so you can easily access to both cities.
Tokyo (Shinjuku)
Matsumoto
Adults 3,500JPY, Children 1,750JPY
(Travel time: Approx. 3h 20min)
Matsumoto
Tokyo (Shinjuku)
Adults 3,500JPY, Children 1,750JPY
(Travel time: Approx. 3h 20min)
Recommended Tourist Spots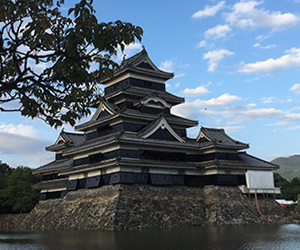 Matsumoto Castle
Matsumoto Castle has become a National Treasure as the oldest extant five structure / six story castle in Japan.
The stairs in the castle is so steep and narrow and you will find so many ingenious attempts to protect the castle from the enemies.
When you are walking around the castle, you may see Ninja and Japanese princess offering free photo shooting.
After visiting the castle, it is fun to stroll around the castle town. You can feel the history in the air!
For touring the downtown of Matsumoto City, Town Sneaker, the city circle bus, is very convenient.
You can get the One-Day tickets at 500 yen for adults (250 yen for children).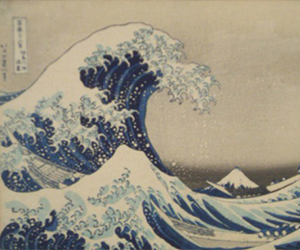 If you like Japanese Arts...
Japan Ukiyo-e Museum
Displays the largest single collection of ukiyo-e woodblock prints in the world
[Address] 2206-1 Shimadachi Koshiba, Matsumoto City
[Contact] Tel : +81(0)263-47-4440 / Fax: +81(0)263-48-0208
[Access] 7 min taxi ride from Matsumoto Station (JR Chuo Line)
[Admission] Adults : 1,200yen / Children : 600yen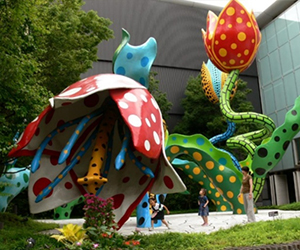 Matsumoto City Museum of Art
Museum featuring works by the Japanese famous artist, Yayoi Kasama
[Address] 4-2-22 Chuo, Matsumoto City
[Contact] Tel : +81(0)263-39-7400 Fax : +81(0)263-39-3400
[Access] 12 min walk from Matsumoto Station
[Admission] Adults : 410 yen / University and high school students : 200 yen / Middle school age and younger : free
Tokyo (Shinjuku)
Matsumoto
Adults 3,500JPY, Children 1,750JPY
(Travel time: Approx. 3h 20min)
Matsumoto
Tokyo (Shinjuku)
Adults 3,500JPY, Children 1,750JPY
(Travel time: Approx. 3h 20min)