Enjoy Alpine Route
Ogizawa (Gateway to the Tateyama Kurobe Alpine Route)
Arrives 5:32 a.m.
You can collect tourist information on Tateyama Alpine Route at Ogizawa Information Center in front of the station.
*Please exchange the voucher with tickets at Ogizawa.
 16 mins by Kanden Tunnel Trolley Bus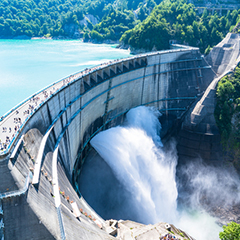 Kurobe Dam
Leisurely walk around Kurobe Dam
(Approx. 90 minutes)
From the Japan's tallest dam of 186 meters
height, outstanding tourist attraction of
dam discharging can be seen between
26th June and 15th October.
Kurobe Lake
The pleasure boat of Garube allows you to
enjoy Kurobe Lake that is known
as the
lake located at the highest attitude in Japan.
(extra charge)
 5 mins by Kurobe Cable Car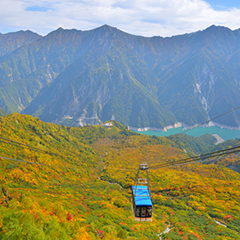 Kurobe-daira
Kurobe-daira is surrounded by Tateyama
Mountain Range and
Ushiro Tateyama
Mountain Range. It is a scenic garden with
Kurobe Lake underneath and perfect spot
for photo shooting.
 7 mins by Tateyama Ropeway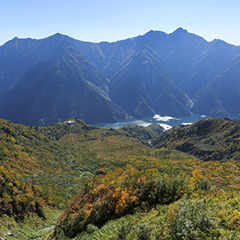 Daikanbo
Majestic scenery of Tateyama Mountain
Range with 3,000 meter peaks is available
from the observatory. (extra charge)
 10 mins by Tateyama Tunnel Trolley Bus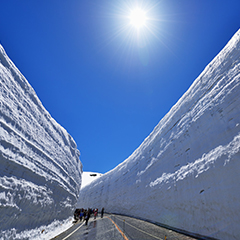 Murodo
Lunch at Murodo-daira (90 minutes)
Murodo is located at the highest point
on the Tateyama Kurobe Alpine Route,
surrounded by 3,000 meters high mountains.
You can walk 500 meters between
the walls
of snow which is over 7 meters high
(20 meters high at the most during
the
heavy season) from mid-April to late-June.
 50 mins by Tateyama Kogen Bus
Bijodaira
Bijodaira is located at the altitude of 1,000 meters. You can enjoy trekking through woods.
 7 mins by Tateyama Cable Car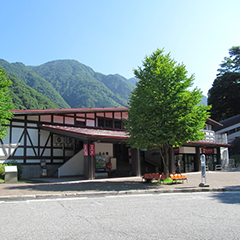 Tateyama Station
This is the last point of the Tateyama Kurobe
Alpine Route in case of
staring from
Ogizawa side.
65 mins by Toyama Chiho Railway Tateyama Line