Kamikochi Yu Yu Tickets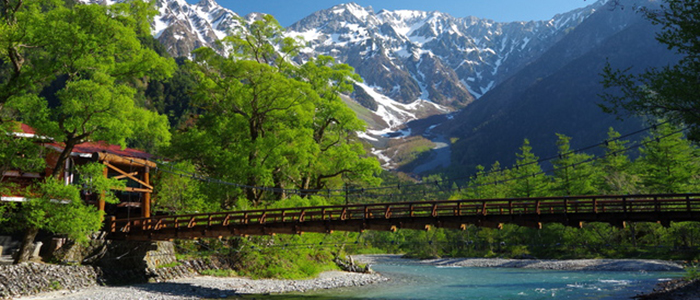 The highway bus for Kamikochi is in operation only from April through November.
2018 Service: From April 17 to July 13, From August 20 to November 15
A package deal with a highway bus round trip ticket between Matsumoto and Kamikochi.
Enjoy a beauty of Japan Alps and Castle town, Matsumoto City.
Kamikochi Yu Yu Tickets includes (vaild for a week) :
• Round trip ticket of highway bus (Shinjuku - Matsumoto Bus Terminal)
• Round trip ticket of Alpico Railway (Matsumoto station - Shinshimashima station)
• Round trip ticket of local bus (Shinshimashima - Kamikochi)

Ticket Fee : Adult 8,200JPY
Service Interval
Highway Bus
Once every hour
First bus: Depart Shinjuku 6:05 a.m.
Last bus: Depart Matsumoto 9:00 p.m.
Local Bus
Once every hour
First bus: Depart Matsumoto 4:45 a.m.
Last bus: Depart Shinshimashima 7:25 p.m.
Railway
1 or 2 services every hour
First train: Depart Shinshimashima 5:20 a.m.
Last train: Depart Kamikochi 6:05 p.m.
About Kamikochi area
Kamikochi is one of the most popular mountainous resorts in Japan. It is located in Nagano prefecture and known as the entrance to Japan Alps.
The recommended way to enjoy a day in Kamikochi is by hiking the trails along Azusa River from Taisho Pond to Myojin Bridge. It does not require advanced hiking skills or experiences, compared to climbing the surrounding peaks. Kamikochi is particularly beautiful during the autumn foliage season, which usually peaks in mid-October. If you would like to climb challenging mountain such as Nishihotakadake (2,909 m), Okuhotakadake (3,190 m), Maehotakadake (3,090 m) and the active volcano Yakedake (2,455 m), it is recommended between mid-June and mid-September.
Enjoy the most spectacular mountain scenery in Japan.
Best Season to visit
from end of May to mid. June
Fresh new green leaves

from July to August
Flowers

from early October to late October
Autumn foliage
Ticket Fee : Adult 8,200JPY